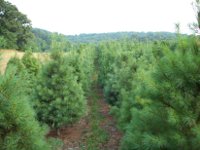 Bluebird Christmas Tree Farm, established in 1983, began selling trees in 1988.  We offer a family-oriented alternative to mass-marketed and artificial trees. We provide the freshest tree possible.  You may choose to cut your own tree, have our friendly staff cut it for you, or select a pre-cut tree.  We have Leyland cypress, Arizona cypress, Virginia pine, Norway spruce, and Fraser firs.
Most trees that will fit under a normal 8 foot ceiling are $45. Table top trees (about 4 feet tall) are $20. We also sell mistletoe, swags, White pine garland or roping, and Fraser fir wreaths from 18″ to 36″ in diameter.
We also offer a great selection of taller Fraser firs, Leyland cypress, and Arizona cypress. These are mostly 9 to 12 feet tall although we can provide firs up to 13 feet tall if you give us at least five days notice.  Bring a truck, rather than a car, if you will be getting a tree more than 10 feet tall.  Bring a trailer if you are getting a tree more than 12 feet tall.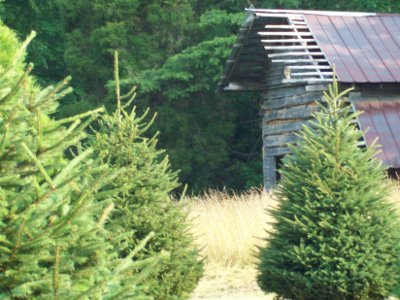 Our hours are Thursday through  Sunday 8 AM until 8 PM.  Bluebird Christmas Tree Farm is 20 minutes from downtown Knoxville and 10 minutes from Norris or Clinton.
Our gift shop and pavilion offers a cheerful fire, hot chocolate, apple cider, snacks, and a selection of excellent local jams, honey, sorghum, and handcrafted items. We are not currently set up to process credit cards, but take cash or checks.  An ATM is available at the Pilot Station at the Raccoon Valley Road exit of I-75.
Address:                                 
Bluebird Christmas Tree Farm
985 Brushy Valley Road
Heiskell, TN 37754
Contact Info:                           
(865) 457-5682 or (865) 599-3522
info@bluebirdtrees.com


 Visit us on Facebook!