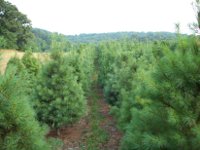 Bluebird Christmas Tree Farm offers a family-oriented alternative to mass-marketed and artificial trees. Since 1988 we have provided the freshest tree possible.  You may choose to cut your own tree, have our friendly staff cut it for you, or select a pre-cut tree.  We have Leyland cypress, Virginia pine, and Fraser firs.
Please be aware there is a nation-wide shortage of Christmas trees this year.  As of 3 PM, Sunday, Dec. 10, we are out of trees in the field and the pre-cut Fraser firs.  We have closed for the season.
We work hard to have the freshest trees in the area.  The trees in the field are of course as fresh as can be.  The Fraser firs, which need a cooler habitat, are cut once or twice a week near Roan Mountain, Tennessee and brought to our farm.  They are cut the day before we bring them in and we rent box trucks to carry them so they never travel exposed to sun or wind.  We store them in the shade for the short time they are here.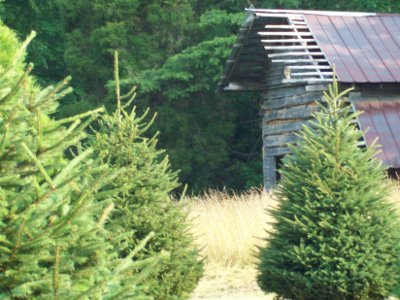 Our hours are Thursday through  Sunday 8 AM until 8 PM.  We are 20 minutes from downtown Knoxville and 10 minutes from Norris or Clinton.
Our gift shop and pavilion offers a cheerful fire, hot chocolate, apple cider, and a selection of excellent local jams, honey, sorghum, and handcrafted items. We take cash, checks or credit cards.
Please see the "New in 2017" tab for important information regarding current inventories and changes at the farm!!
Address:                                  
Bluebird Christmas Tree Farm
985 Brushy Valley Road
Heiskell, TN 37754
Contact Info:                           
(865) 599-3522 or (865) 457-5682
info@bluebirdtrees.com


 Visit us on Facebook!